2014 Results: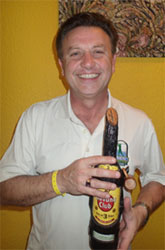 Victor Isidro
2014 Caribbean Open Champion
#
Name
H/C
Day

1
Day 2
Day 3
Total
1
Victor Isidro
17
-5
-6
-3
-14
2
Brian Leakey
19
1
-7
-6
-12
3
Peter Baron
21
2
5
-10
-3
4
Cornelio Klassen
7
2
0
-4
-2
5
Jackie Blacksmith
15
0
0
-2
-2
6
Doran Williams
15
-3
0
4
1
7
Roberto M Clocchiatti
17
5
4
-2
7
8
Michael Macfarlane
9
11
-1
-3
7
9
Thomas Weidenfelder
13
7
5
-2
10
10
Kumar Cherla
10
3
9
0
12
11
Robert Thompson
12
3
8
3
14
12
Mauro Evangelista
18
5
14
-4
15
13
Hattie Blacksmith
24
9
0
10
19
14
Barbara Thompson
20
10
6
3
19
15
Joseph Szule
11
9
7
6
22
16
Karen Weidenfelder
24
12
7
5
24
17
Mouhabeldein Youssef
14
11
13
4
28
18
Marc Champagne
18
0
20
13
33
19
Jason Keiper

22
20
20
20
60
Our rates our guaranteed to remain the same however the availability may not! Please book ASAP if you would like to join us so we can book as many as we can until they sell out.
Please call if you have any questions!

For more information please call: 1 800 552 1130
or send an email to: brian@mulligantour.com

Open to all Members and Non Members!

5th Annual
2014 Caribbean Open
(January 20-27, 2014 Golf Trip - Golf for Cash Series!)
3 Day Singles event

2013 Champion
Peter Baron
(Toronto)
Come join us for only
(Leaving from Toronto)
$1145.00 - Based on Double Occupancy, $100 to Cash Pot! (add $360 as a Single!)
$1195.00 - Based on Double Occupancy, $100 to Cash Pot! (Room with Balcony)
$1260.00 - Based on Double Occupancy, $100 to Cash Pot! (oceanview with Balcony)
$100 from each Golfers entry fee goes to the Cash Pot!

Non Golf Tournament Rate Only
$1045.00 - Based on Double Occupancy

Hotel: Breezes Bella Costa, Varadero, Cuba - Varadero website www.breezes.com

Golf Course: Varadero Country Club Website www.varaderogolfclub.com
March 2008 Trip (Teeth of the Dog Golf Course)
see: http://www.youtube.com/watch?v=1XUkdHQHmbE

I have looked at many options for this years Golf Trip and have come to the conclusion that this price is fantastic for a Varadero all inclusive golf vacation at a Breezes resort! The hotel is a 5 minute walk across the street from the golf course.
For more Information please call 800 552 1130
Includes 7 nights, Flight from Toronto, 3 rounds of *Golf, $100 towards Cash Pot, accommodations,
Transfers, Meals, Drinks and all taxes. (All inclusive)
(No Caddy Fees!)

(click) Register NOW! (click)
(click) 2013 Results (click)
(click) 2010 Results (click)
(click) 2009 Results (click)
(click) 2008 Results (click)
Hotel overview

Enjoy the beautiful coasts of Varadero, Cuba with a relaxing stay at the Breezes Bella Costa by Superclubs, a Sunwing "Smile" resort. This family-friendly, all inclusive resort is surrounded by vast gardens and rests on a gorgeous stretch of Varadero beach. Active travellers can take part in a variety of included land and water sports, while the resort's close proximity to the Varadero Golf Club makes it an ideal choice for golfers. Children will have the time of their lives with supervised games and activities at the Kids Club as well as their own pool.

Breezes Bella Costa | Resort Location
Varadero, Cuba

Location

Area

Property Amenities of Breezes Bella Costa By Superclubs

396 Room(s)
2 Pool(s)
Medical Services ($)
Medical Centre ($)
Beauty Salon ($)
Air Conditioned Gym/ Fitness Centre

Jacuzzi
Separate Children's Pool
Kids Club
4 Restaurant(s)
5 Bar(s)

Dining/Entertainment at Breezes Bella Costa By Superclubs

1 Buffet
1 Grill
2 ΐ la Carte

Room amenities

Hotel Room No Balcony

Maximum Number of Adults 3
Maximum Number of Children 2
Maximum Occupancy 4
Air Conditioned
Hair Dryer
Safety Deposit Box
Satellite TV
Iron & Ironing board
Coffee/ Tea Maker
DVD Player
1 King or 2 Twin Beds
220V (adapters/transformer required)
Minimum occupancy 1
Mini fridge (water only upon arrival)
Minimum adults 1

Other room categories available

Meal plans

All Inclusive

• 3 meals daily plus snacks
• All drinks (domestic beer and cocktails, select international brands, house wine)
• Daily activities
• Nightly entertainment
• Kids' club (4-12yrs)
• Kayaking
• Windsurfing
• Kayaking
• Snorkeling
• Hobbie cat sailing
• Water polo

Smile Hotel

• 2 children free 2-12 incl all year
• No Single Parent Supplements
• Teenage pricing 13-17 incl
• Welcome Cocktail
• Coffee & Tea maker in room
• Early check-in / late check out (subject to availability)
• Free use of safety deposit box in room.
• Shaded kids pool or part of kids pool
• Shaded playground
• Kids Club Program
• 1 liter of water per room per day














Varadero, Cuba

Varadero Golf Club is a links design that covers a narrow 3.5 km strip of property on the Hicacos Peninsula. Eight of the holes have water hazards and bunkers dot the sides of the fairways. The sand traps that guard the large greens are not overly intimidating. They make for a challenge that allows golfers of all ability levels to have a go at the flags without being penalized too much.

One other item to consider are the breezes coming off the water on both sides of the peninsula. They do influence club selection and shot choices.

The course has two distinct personalities. The front-nine are a nice lead-in since they don't include as many hazards as the back nine and are pretty much straight away. The water is a factor on several holes coming in and there are slight elevation changes combining with doglegs calling for more precise shots.

Players can warm-up at the full practice area. There are two putting greens, one chipping green and two bunkers. Instruction is offered during one-hour sessions that start at 9 a.m., with a maximum of four students per instructor.

The clubhouse is the historic 1930s Dupont Mansion, which is known as Xanadu. It sits atop a coral seawall and provides outstanding views of both the course and the ocean.

There's a large fully stocked pro-shop and caddie house with TaylorMade rental clubs, lockers and a bar. Caddies, electric carts and professional instruction are also available.
---