2015 Results: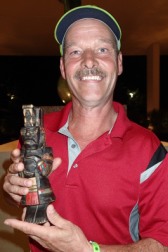 Brent Hillman
2015 Caribbean Open Champion
#

Name

H/C
Day

1
Day 2
Day 3
Total
1
Brent Hillman
10
1
-1
0
0
2
Victor Isidro
17
9
-10
9
8
3
Neal Klassen
8
9
2
1
12
4
Albert Devin
4
7
6
9
22
5
Ozzy Rameriz
14
13
2
12
27
6
Peter Baron
22
11
9
8
28
7
Mike Macfarlane
10
8
20
4
32
8
Doran Williams
16
19
14
7
40
9
Peter Macfarlane
30
18
31
40
89
10
Brian Leakey
18
22
13
55
90
7th Annual
2015 Caribbean Open
(January 21-28, 2015 Golf Trip - Golf for Cash Series!)
3 Day Singles event
Open to all Members and Non Members!

2014 Champion
Victor Isidro
(Toronto)
Come join us for only
(Leaving from Toronto)
$1525.00 - Based on Double Occupancy, $100 to Cash Pot! (Call for Single Rate!)
$100 from each Golfers entry fee goes to the Cash Pot!

Non Golf Tournament Rate Only
$1395.00 - Based on Double Occupancy

Hotel: Luxury Bahia Principe Sian Ka'an, Mayan Riviera, Mexico - website www.bahia-principe.com/en/hotels/riviera-maya/resort-siankan/
Golf Course: Riviera Maya Golf Club - Website www.rivieramaya-golfclub.com/.
Transat Holidays has a great description of the resort that you can find below:
www.transatholidays.com/en-CA/South/Mexico/Riviera-Maya/Hotels/Luxury-Bahia-Principe-Sian-Ka-an-Don-Pablo-Collect?isPopup=true.

Includes 7 nights, Flight from Toronto, *Unlimited Golf, $100 towards Cash Pot, accommodations,
Transfers, Meals, Drinks and all taxes. (All inclusive)
(*Mandatory Cart of $80-$100 per person, The course is a $230 golf course)

March 2008 Trip (Teeth of the Dog Golf Course)
see: http://www.youtube.com/watch?v=1XUkdHQHmbE

Please book ASAP if you would like to join us so we can book as many as we can until they sell out. Our first "block" has always been the best offer as price go up as availabilty goes down!
Please call if you have any questions!


(click) Register NOW! (click)
(click) 2014 Results (click)
(click) 2013 Results (click)
(click) 2010 Results (click)
(click) 2009 Results (click)
(click) 2008 Results (click)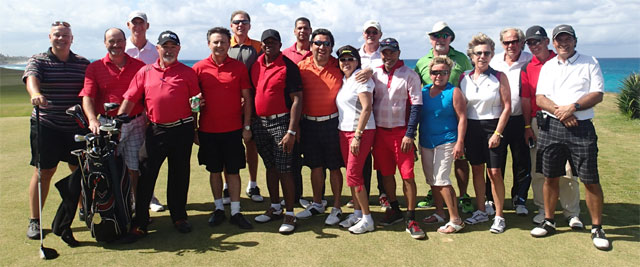 Hotel overview

The Luxury Bahia Principe Sian Ka'an Don Pablo Collection Hotel in Riviera Maya is on the prestigious Bahia Principe Riviera Maya, Robert Trent Jones, Golf Course, approximately 42 km from Playa del Carmen, 26 km from Tulum and 95 km from the Cancun airport.


What's included

Meal plan type: All-inclusive

Breakfast Daily (Buffet)
Lunch Daily (Buffet, BBQ/Grill)
Dinner Daily (Buffet & à la carte)
24 hour snacks
Reservation required for à la carte restaurants
Unlimited a la carte dinner reservations (subject to availability)
24-hour room service

Beverages

Unlimited domestic alcoholic and non-alcoholic beverages (premium drinks available with extra charge)
Local drinks and soft drinks in the Plaza Mayor Bar located in the Hacienda Dona Isabel


Activities & Entertainment

One hour per day of windsurfing, daytime tennis, snorkeling, kayaking, cycling, football, basketball, volleyball, boogie-boarding (at Bahia Principe Riviera Maya Complex)
Introductory Scuba demonstration in pool (reservations required at Bahia Principe Riviera Maya Complex)

Gym, stretching class (at Bahia Principe Riviera Maya Complex)
Games and organized activities (at Bahia Principe Riviera Maya Complex)
International entertainment programme for adults (day and night at the Bahia Principe Riviera Maya Resort Complex)

Aerobics and dance classes (at Bahia Principe Riviera Maya Complex)
Free entrance to disco at Hacienda Dona Isabel including local drinks

Other Inclusions:

Exclusive beach club at Grand Bahia Principe Tulum beach
Beach waiter service
Recliners, beach umbrellas and towel service for beaches and pools

WiFi in lobby and rooms
Shuttle transportation from hotel lobby to the other hotels in the Bahia Principe Riviera Maya Complex
Local taxes and tips

Stay at 1, Play at All!

Al guests have access to all facilities and services within the Bahia Principe Riviera Maya Complex (excluding Club Hacienda)


• 1 liter of water per room per day














Mayan Riviera, Mexico

Another masterpiece by renowned golf course designer Robert Trent Jones II, Riviera Maya Golf Club at Bahia Principe is a pleasure to play. A concerted effort has been made to integrate the course with the natural environment of the Riviera Maya, giving it a natural and beautiful feel.

You'll tee off from the edge of natural cenotes (sinkholes that reveal the underwater river system of the Yucatan) and be accompanied by lakes, forests, and Mayan jungle as you play through this gorgeous course. Another nice touch is the amount of relief in the terrain, rarely found here.

This golf course is the most convenient for people staying south of Playa del Carmen in areas like Akumal and Tulum, and its all-inclusive ambience means never going hungry or thirsty. This course will feature 27 holes plus a 9 hole executive course, but so far 18 holes are open to play.
---