11th Annual
2019 Caribbean Open
(January 16-23, 2019 Golf Trip - Golf for Cash Series!)
3 Day Singles event
Open to all Members and Non Members!

2018 Champion
Mike Macfarlane
(Hamilton)
SOLD OUT!
(32 confirmed)
Jamaica!
Come join us for only
(Leaving from Toronto)
$1865.00 - Based on Double Occupancy, standard room. Add $100 to Cash Pot for golfers!
Add $396US for 4 rounds of golf with cart, $10 Caddie tip - (Payable in Jamaica)
Replays are $49US - No Caddie Required after 1pm
$2460.00 - Based on Single Occupancy, standard room. Add $100 to Cash Pot for golfers!
Add $396US for 4 rounds of golf with cart, $10 Caddie tip - (Payable in Jamaica)
Replays are $49US - No Caddie Required after 1pm
Features

Free wifi
Golf course voted Top 10 in the Caribbean.
LPGA Latin Tour plays here
8:00am tee times booked for Jan 17th, 18th, 20th and 21st.
Golf fees payable at the golf course when we arrive! (cash pot as well)

Flight leaves at 10:15am arrives in Jamaica at 2:25pm
Depart Jamaica at 3:50pm and arrive in Toronto at 8:00pm
Group diners will be booked
Group outings - Duns River Falls, Catamaran cruise, ect. (Optional)
Golf portion of trip payable in Jamaica
Hotel: Riu Reggae, Jamaica - Website https://www.riu.com/en/hotel/jamaica/montego-bay/hotel-riu-reggae/
Golf Course: White Witch Golf Club - Website https://rosehall.com/white-witch
Cinnamon Hill Golf Club - Website https://rosehall.com/cinnamon-hill
Includes 7 nights, Flight from Toronto, *4 rounds of golf with cart, accommodations,
Transfers, Meals, Drinks and all taxes. (All inclusive)
(*4 rounds with carts add $396US and Cash Pot $100 payable in Jamaica)

March 2008 Trip (Teeth of the Dog Golf Course)
see: http://www.youtube.com/watch?v=1XUkdHQHmbE

Please book ASAP if you would like to join us so we can book as many as we can until they sell out. Our first "block" has always been the best offer as prices go up as availabilty goes down!
Please call if you have any questions!


(click) Register NOW! (click)
(click) 2019 Results (click)
(click) 2018 Results (click)
(click) 2017 Results (click)
(click) 2016 Results (click)
(click) 2015 Results (click)
(click) 2014 Results (click)
(click) 2013 Results (click)
(click) 2010 Results (click)
(click) 2009 Results (click)
(click) 2008 Results (click)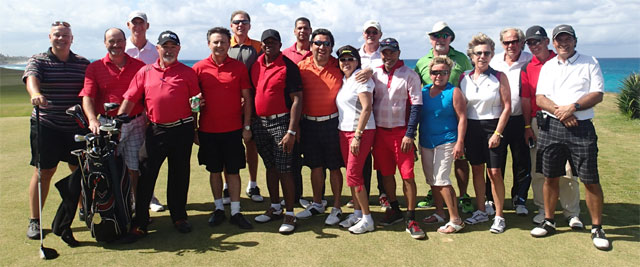 Hotel overview:

Located right on the beach and surrounded by incredible nature the Riu Reggae is a new, all-inclusive Adults Only hotel in Montego Bay, Jamaica. Thanks to its idyllic surroundings and the wide array of services and amenities it has to offer including free Wi-Fi, infinity pools, a gym and spa it is the perfect place for a vacation with your partner or friends.

The Riu Reggae is a 5-star hotel in Montego Bay with more than 400 fully equipped rooms, offering its guests maximum comfort. Every room has free Wi-Fi, a minibar, air conditioning and satellite television, as well as many other services. In addition, we also provide our guests with a concierge service, which will make your vacation an unforgettable experience.

At the hotel's facilities, you can take part in an endless number of activities and sports or cool off in our incredible pools. Furthermore, to ensure our guests enjoy their entire day, we have an activities program, with both day time and night time activities, in which our shows and live music are the big attractions. If you prefer to relax, the Renova Spa is the place for you. The Renova Spa is a sensational center where you can enjoy the sauna, jacuzzi, gym and a wide variety of body and beauty treatments so you will return from your vacation fully refreshed.

The Riu Reggae hotel's cuisine stands out for its wide array of options. You can enjoy anything from delicious Italian and Asian dishes to the best beef at our Steakhouse. To ensure that your stay is complete, our all-inclusive hotel has three bars where you can enjoy all types of drinks and appetizers in different areas of the hotel. Furthermore, you can enjoy the best nightlife just a few yards away at Riu Montego Bay Hotel's nightclub Pacha.

What's included
FREE WIFI

Meal plan type: All-inclusive

3 meals daily plus snacks
All drinks (domestic beer and cocktails, select international brands, house wine with meals, 10 a.m.- 2 a.m.)
Daily activities
Non-motorized water sports
Evening entertainment

Resort Facilities

1 buffet, 5 restaurants:
Dolce Vita - Italian
Bamboo - Asian
Grill & Steakhouse - Steakhouse
Kulinarium
4 bars including Beach bar, Lobby bar, Pool bar & Swim up bar
Disco
Fitness centre
Tennis courts
Multi-sport courts
Golf course (fee)
Shops

Rooms

Maximum Number of Adults: 4
Maximum occupancy: 4
Ceiling fan
1 king or 2 double beds
Balcony with garden or jungle views
Mini-bar stocked daily (water, soda, and beer)
Minimum Adults 1
Minimum Occupancy 1

Stay at 1, Play at All!

Al guests have access to all facilities and services at Riu Montego Bay.


















White Witch & Cinnamon Hill Golf Clubs
Montego Bay, Jamaica

White Witch:
Situated on the historic 4,000 acre Rose Hall Estate, and sited on 200 acres of lush greenery and rolling countryside, The White Witch Golf Course is carved from the rolling countryside of Jamaica's historic Rose Hall Plantation and is an 18-hole championship golf course designed by Robert von Hagge and Rick Baril. This 6,758-yard, Par 71 treasure is named for the plantation's beautiful but wicked 19th century plantation mistress, Annee Palmer.
Legend has it that Annee's ghost still haunts the estate, creating an alluring mystique that has fascinated island natives and visitors for generations. Rated as the #1 Golf Course and #1 in Golf Shop Staff service by Conde Nast Traveler, the White Witch is considered one of the finest golf courses in the Caribbean, characterized by mountainous terrain, cool trade winds, colorful foliage and spectacular ocean views from 16 of its 18 holes.

Cinnamon Hill:
Course designers von Hagge and Rick Baril designed Cinnamon Hill with elevations that give the sense of both coastal and tropical inland golf. At Cinnamon Hill, you'll experience the best of Jamaica golf — the cool ocean spray on your cheeks as you putt on seaside greens and wind whistling through the pines as you tee-off on the 17th hole, 350 feet above the turquoise Caribbean sea. This is a test you will enjoy, enchanting panoramas framing your every shot.
To get the most out of this unique experience, talk to our caddies. They are listed among "The Best In The World" by Golfer magazine, and they will be equally happy to discuss Annee Palmer or Arnold Palmer and can read greens better than any pro.
---